BRIEFS AND BACKGROUNDS
The Indian Government has enacted 3 Laws called Agriculture Bills. Indian Farmers have rejected these and have been protesting since November in Delhi. They want then repealed and consultations to start. Read the background, implications and how you can join to assist.
CALL FOR ACTION – PETITION
United Nations
Applicable International Treaties, Conventions and Regulations Re: India's Agricultural Crisis
In the opinion of Sikh Human Rights Group Prime Minister Narendra Modi and the Indian Government's recent attempt to implement the Three Farmers Bills into India's domestic law has breached many international human rights norms as well as many international human rights law provisions.
The three farm laws were brought in without consultation with farmers or their leaders, they remove the provision for independent evaluation of produce in relation to costs of production and they also deny farmers access to independent justice in case of contractual disputes.
Global Young Greens Statement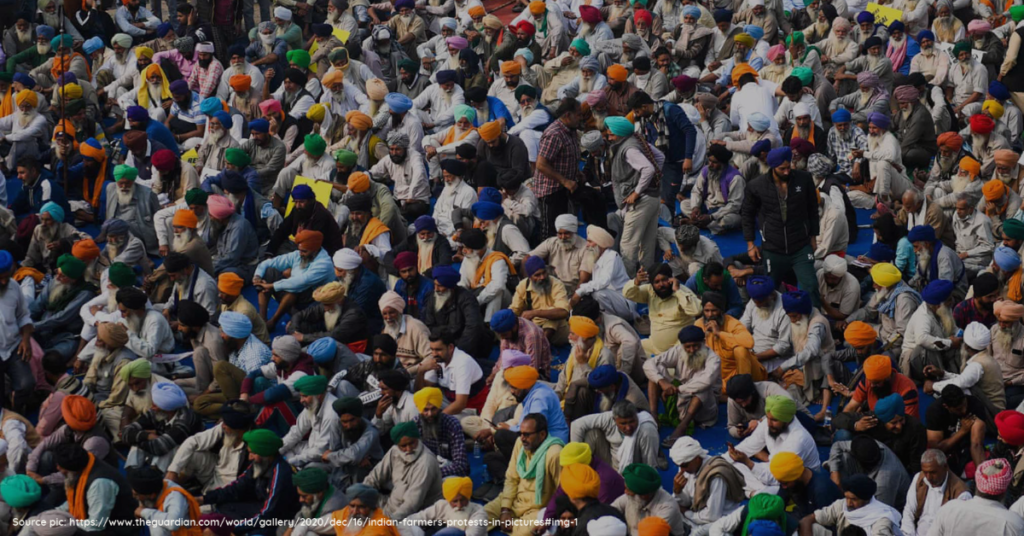 A Bitter Harvest – Blog post by Global Young Greens
Despite the grand ambition of doubling farmer's income latest by 2022, recent bills of the government of India are just revealing. These bills make us think – Are we able to envision the upcoming 10 years on or are we in a state of chronic myopia?
Recently, the new farm laws have brought the farmers of different parts of India to the streets of Delhi and other representative stakeholders. These bills attempt to weaken the most fundamental constituent of India's economy – its agriculture sector. These fragments of legislation will undo the hard work of farmers and policymakers, which were undertaken to make the country self-sufficient in food grains. These bills would place the food security of the nation in the hands of corporations pauperizing the condition of our farmers.
Go to https://globalyounggreens.org/a-bitter-harvest/ for the full blog post.
BRIEFING PAPER ON FARMERS' ISSUE IN INDIA
BRIEFING PAPER ON FARMERS' ISSUE IN INDIAISSUE: Laws (known as the three Farm Bills) have recently been introduced in India that have eroded the already fragile protection afforded to small farmers;The fundamental right to go to Court on contractual disputes, under Articles 6 and 7 of the Universal Declaration of Human Rights (UDHR), has been taken away from farmers; The Indian government is trying to throw the farmers to the 'market' and remove protection as well as the small subsidy that enables small farmers to survive the ups and downs of the market; and Farmers feel that they will be pushed into bankruptcies and lose their land.
See this document about the farmers issue in India.